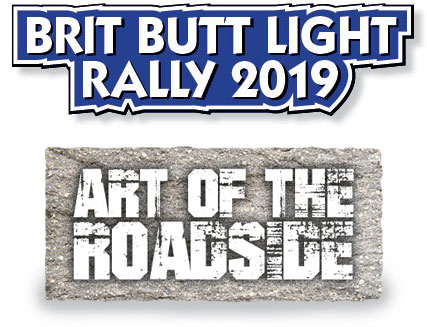 Saturday 13th July 2019
Welcome to the page for the Brit Butt Light Rally, a 12-hour photo-based motorcycle scatter rally, similar to a treasure hunt. Now in its eleventh year the Brit Butt Light has a new home for 2019, moving from Stoke to Bingley in West Yorkshire.
The aim of the Brit Butt Light Rally is to spend the day on your bike visiting locations throughout the UK and return to the Rally HQ, without exceeding the time or mileage limit, having collected points for each location you visited. The exact locations and points available are supplied in the Rally Book 1-week in advance of the Rally, so this gives you plenty of time to plan a day out visiting some new and interesting places. A photo displaying your own personal rally flag at each location is needed to prove where you have been on your travels.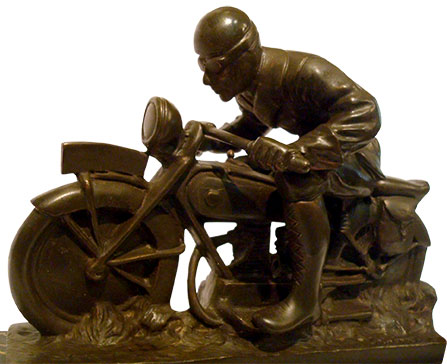 The theme for the 2019 Brit Butt Light Rally is "Art of the roadside" and highlights some of the grand, and more subtle, artworks that surround us as we travel through our everyday lives. I hope you enjoy exploring our gallery.
The Rally HQ location of Bingley in West Yorkshire provides an excellent central point to explore in all directions. Local hotel details will be supplied for those wishing to stay overnight before and after the rally. On the morning of 13th of July 2019, the start time of the rally will be 8.00 am (you would need to arrive up to an hour beforehand for registration), and riders must return to Rally HQ no later than 8.00 pm to be classed as a finisher. A meal and drinks will be supplied at the finish, your photos checked and scored, then a Roll of Honour created. All entrants who complete the rally receive a certificate, with trophies given for the top-3 places.
The 12-hour Brit Butt Light Rally is the mid-size rally organised by Iron Butt UK. The entry-level, but still fun and challenging, rally is the 8-hour Jorvik Rally, based wholly within the boundaries of Yorkshire. The challenging Brit Butt Rally is the top-level offering, this 36-hour rally can take you anywhere in the UK, maybe even further, and is a true test of planning, stamina and endurance.
Entry is now open, click here to enter BBL 2019.
The cost of entry will be £25 for riders, and £35 for a rider and pillion, this will need to be paid via PayPal on registration.
A percentage of the fee will be given to the Yorkshire Air Ambulance.