Rides To Eat
We are a very friendly bunch us Iron Butt riders and one of the main ways we get together is the Ride To Eat (RTE).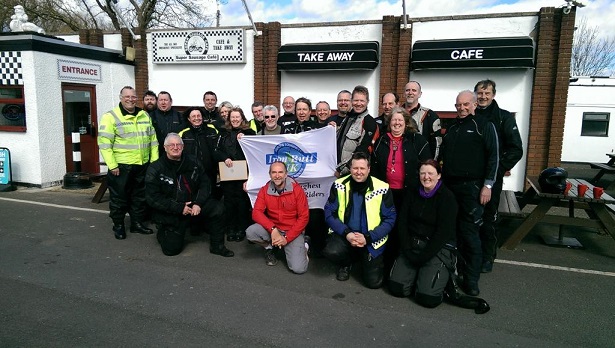 Here in the UK any member can call an RTE at any time. The idea is simple, specify a location - any location - and a time, usually but not always 12 noon on a Saturday and post an invitation in the UK forum. We all (or maybe just a few) ride independently to the venue, have a meal together then go our separate ways. There is usually at least one RTE called each month throughout the year so plenty of opportunity to mix with other like-minded riders.
European Rides To Eat
We also have a series of European RTEs, every other month, themed centrally by our European RTE Coordinator Michiel Kerkhof. ERTEs differ from the local variety in that the meeting time is invariably 1600 local time and involve an overnight stay in a local hotel (let's face it, if you ride from home to Poland an overnight stay is pretty essential before riding back!)
For 2019 the ERTE theme is 'centres' and the locations are: Centre of Belgium; Centre of France; Centre of Europe(Poland); Centre of Europe(Lithuania); Centre of Switzerland.
For 2018 the ERTE theme is lighthouses and the locations are: Egmond,Holland; Finisterre,Spain; Alexandroupoli,Greece; Lindesnes,Norway; Bari, Italy.
For 2017 the ERTE theme is European Capitals and the locations are: Luxembourg, San Marino, Moscow, Riga and Andorra
For 2016 the ERTE theme is castles and the locations are: Verdun, France; Ksiaz Castle, Poland; Castle Bran, Romania; Innsbruk, Austria; Predjama Castle,Slovenia
For 2015 the ERTE theme was zoos and the locations were: Pieterburen, Netherlands; Gdansk, Poland; Thessaloniki, Greece; Zaragoza, Spain; Zagreb, Croatia
For 2014 the ERTE theme was adult beverages and the locations were:
February: Epernay France Home of DomPerignon Champagne
April: Aalborg Denmark Home of Danish Aquavit - trip report by Lyn & Kevin Weller here.
June: Pilsner Czech Republik Home of the original Pilsner Beer
August: Porto,Portugal.....Home of ...
October: Pontarlier,France home of Absinth
On 20th September 2014 we held an RTE at Alt-Berg, The Yorkshire Bootmakers, and were made very welcome by the management and staff.
On 5th July 2014 we held an RTE at John O'Groats and a second one the next day at Land's End.