36 hour Brit Butt Rally - 24th-26th May 2019
Probably the toughest motorcycle rally in Great Britain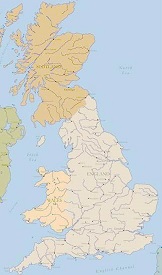 The Brit Butt Rally follows the same basic rules as the biennial 11 day 11,000 mile Iron Butt Rally in the USA. Put simply, from the Rally Book, choose your own route to ride around the country for up to 36 hours photographing landmarks and accumulating bonus points. Bonus locations will be spread far and wide; there will be places close to the start, at all corners of Great Britain and everywhere else in between. Sleep in hotels, at home, a tent or park benches, it's up to you. The details of the bonus locations and scoring strategy remain secret until the night before the rally.
The rally itself will cover the whole of England, Scotland and Wales and a good score can only be achieved by putting together combination bonuses.
You will need to arrive on the Friday afternoon (24/05/19) at Rally HQ in order to register and complete a few checks. An evening meal will be followed by an explanation of the format of this year's event and the issue of rally books. After the final briefing you can retire to your hotel rooms to plan your route and get some rest prior to the start at 06:00 the next morning. During the course of the rally you will be required to take some rest/sleep, you will lose bonus points if you do not take any. On Sunday afternoon (26/05) you must return to Rally HQ by 18:00 at the latest where scoring will be completed. When this has completed you are invited to take part in the celebratory evening meal and prize giving that will take place in the hotel; optional storytelling in the bar afterwards will also be available. Monday 27/05 is a Bank holiday, so after a well-earned sleep and a leisurely breakfast you can say your goodbyes and head for home.
The Rally Master in 2019 will be Steve Eversfield (3 times Iron Butt Rally veteran).
Please note: Safety is paramount. This is NOT a race and we do not condone speeding or reckless riding. It is all about planning an efficient route and then riding your planned route in order to return safe and sound. Ride as far as you feel capable of, the main emphasis is fun on two wheels (or three).