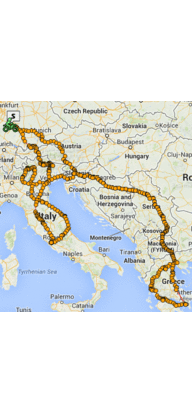 European Tour 2014
Iron Butt rallies are unique opportunities for riders to pit their wits against each other by juggling the time / distance equation to achieve the maximum possible points from 'bonus locations' provided by the Rallymaster.
The European Tour 2014 was designed by IBA Ireland and IBA Germany to appeal to novice rally riders and those with multi-day rally experience. You can ride as many or as few miles as you wish. You may be happy to simply finish the event and gain Finisher status. Or you may wish to test your abilities and aim for a high place finish. It's up to you. No matter what your game plan is, you will have the opportunity to tour Europe like you've never toured Europe before.
The rally was held with rider check-in in Stuttgart, Germany on Saturday 6th September and finishing back in Stuttgart on Friday 12th September. Several UK riders took place in competition with riders from Belgium, Finland, Germany, Canada, Sweden, Poland, Australia and Switzerland. The winning route included Germany, Austria, Italy, Slovenia, Croatia, Czech Republic, Poland, Lithuania, Latvia and Estonia and the final rankings are shown below.
Congratulations to all.
| Position | Name | Motorcycle | Country | Miles | Points |
| --- | --- | --- | --- | --- | --- |
| 1 | Michiel Kerkhoff | Harley-Davidson Ultra Classic CVO | Belgium | 4813 | 212116 |
| 2 | Kevin & Lyn Weller | Yamaha Super Tenere | UK | 4590 | 202582 |
| 3 | John Young | Triumph 1200 Explorer | UK | 3710 | 201074 |
| 4 | Viki Pakarinen | Suzuki GSR | Finland | 4819 | 182235 |
| 5 | Benny Watz | BMW K100LT | Sweden | 3350 | 172561 |
| 6 | Phil Weston | Triumph Tiger 800 | UK | 4358 | 168685 |
| 7 | Timo Raisanen | BMW R1200GS | Finland | 4320 | 159769 |
| 8 | Marc Schaub | Honda CBF 600 SA | Germany | 3122 | 159019 |
| 9 | Peter Wildschutz | BMW 1150GS | Germany | 3771 | 158694 |
| 10 | Jorg Wehausen | Harley-Davidson Electra Glide | Germany | 3574 | 158171 |
| 11 | Daniel Duvskog | BMW 1200RT | Sweden | 3839 | 157825 |
| 12 | Roman Antonin | Yamaha XVZ 13 TF | Germany | 3581 | 155842 |
| 13 | Scott Miller | 2005 BMW R1150R Rockster | Switzerland | 3935 | 154722 |
| 14 | Grzegorz Puchawski | Yamaha FJR 1300A | Poland | 4083 | 154085 |
| 15 | Thomas Bode | Honda Pan ST1100 | Germany | 3591 | 152656 |
| 16 | Carl Hanck-Muller | BMW R1100RT | Germany | 3490 | 150682 |
| 17 | Frank Doling | BMW R1100GS | Germany | 3967 | 149125 |
| 18 | Dave Winter | Yamaha FJR | UK | 4080 | 148949 |
| 19 | Wulstan Melling | Triumph Scrambler | UK | 3071 | 148055 |
| 20 | Ian McPhee | BMW R1200GS | Australia | 3767 | 145186 |
| 21 | Alfred Scholles | BMW R1200GSA/LC | Germany | 2774 | 141690 |
| 21 | Peter Schmidt | BMW R1200GSA | Germany | 2780 | 141690 |
| 22 | Martin Buck | BMW R100RT | UK | 3150 | 141381 |
| 23 | Johannes Faget | Honda XBR 500 | Germany | 2904 | 141108 |
| 24 | Jaques Titolo | 2007 Suzuki V-Strom DL1000 | Canada | 3054 | 139389 |
| 24 | Jennyfer Audet | Suzuki V-Strom 650 | Canada | 3124 | 139389 |
| 25 | Gerald Perkins | Honda ST1100 Pan European | UK | 3397 | 135299 |
| 26 | Rainer Killlian | Honda Deauville 650 | Germany | 3065 | 132862 |
| 27 | Hampe Hammarberg | BMW K1100LT | Sweden | 3038 | 127587 |
| 28 | Andreas Manfred Scholz | Honda ST11090 Pan European | Germany | 2513 | 127422 |
| 29 | Johannes Dolecek | KTM Duke 690 | Germany | 3112 | 124010 |
| 30 | Celso Pinheiro | Gilera GP800 | UK | 2912 | 122854 |
| 31 | Ismo Mannila | Honda ST1100 Pan European | Finland | 3557 | 108331 |