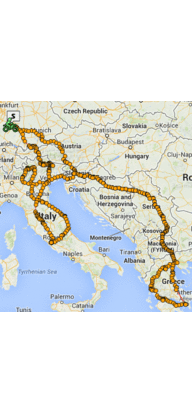 European Tour 2016
Iron Butt rallies are unique opportunities for riders to pit their wits against each other by juggling the time / distance equation to achieve the maximum possible points from 'bonus locations' provided by the Rallymaster.
The rally was held with rider check-in in Stuttgart, Germany on Saturday 3rd September and finishing back in Stuttgart on Friday 12th September. Several UK riders took place in competition with riders from Belgium, Finland, Germany, USA, Sweden, Poland, Australia and Switzerland. The winning route included Germany, Austria, Italy, Slovenia, Croatia, Czech Republic, England, Wales, Scotland and Ireland and the final rankings are shown below.
Congratulations to all.
| Position | Name | Motorcycle | Country | Miles | Points |
| --- | --- | --- | --- | --- | --- |
| 1 | Robert Koeber | Honda ST1100 | Belgium | 4883 | 206765 |
| 2 | Daniel Duvskog | BMW R1200 GSA LC | Sweden | 4094 | 157356 |
| 3 | Dave Winter | Yamaha FJR 1300 | UK | 4083 | 154916 |
| 4 | Peter Ihlo & Conny Schneiter | Honda Pan European ST1300 | Switzerland | 4223 | 149776 |
| 5 | Benny Watz | Honda NT 700 | Sweden | 3667 | 147814 |
| 6 | Gerhard M. Krueger | BMW R1200 GSA/LC | Germany | 4072 | 147698 |
| 7 | Guy Derner | BMW GS1200 | Israel | 4398 | 140048 |
| 8 | Amnon Romano | BMW R1200GS | Israel | 4352 | 140048 |
| 9 | Frank Wamsganz | BMW K1300S | Germany | 4046 | 138587 |
| 10 | Rainer Killian | Honda Deauville 650 | Germany | 3856 | 134077 |
| 11 | Scott Miller | BMW R1150R Rockster | Switzerland | 4038 | 132975 |
| 12 | Gerald Perkins | Honda ST1100 | UK | 3543 | 130762 |
| 13 | Martin Buck | BMW R1200RS | UK | 3820 | 129078 |
| 14 | Ian McPhee | BMW R1100RT | Australia | 3756 | 124287 |
| 15 | Thomas Bode | Honda Pan European 1300 | Germany | 3643 | 121420 |
| 16 | Michael Turnpenny | Yamaha FJR 1300A | UK | 4754 | 121011 |
| 17 | John Cross | Triumph Tiger 955i | UK | 2931 | 118295 |
| 18 | John Gann | Triumph Rocket III | Switzerland | 3051 | 113857 |
| 19 | Gerd Heinzmann | BMW R1200RS | Switzerland | 3070 | 113857 |
| 20 | Lee Edwards | KTM 1150 Adventure | UK | 2715 | 112818 |
| 21 | Kim Leeson | BMW | UK | 2980 | 101055 |
| 22 | Danny Dossman | BMW | USA | 2568 | 95623 |
| 23 | Michael Amarantidis | Harley Davidson Road King CVO | Switzerland | 2530 | 94803 |
| 24 | Henri Castillion | Harley Davidson Road Glide | Netherlands | 3414 | 92780 |
| 25 | Fotis Amarantidis | HD Street Bob | Switzerland | 2533 | 92303 |
| 26 | Philip Wellman | BMW R1200RT | UK | 2846 | 74423 |